ASO vs SEO – See How They Are Different
Author : Amitt Verma | 30 May 2023
Mobile apps and websites have become the go-to options for informational and promotional content. In the world of digital marketing, a web page or a mobile app's rank can make or break a start-up or even an existing business.

If you are looking to search out some key points to increase relevancy and traffic for your creation, you must look into the contribution of ASO and SEO services.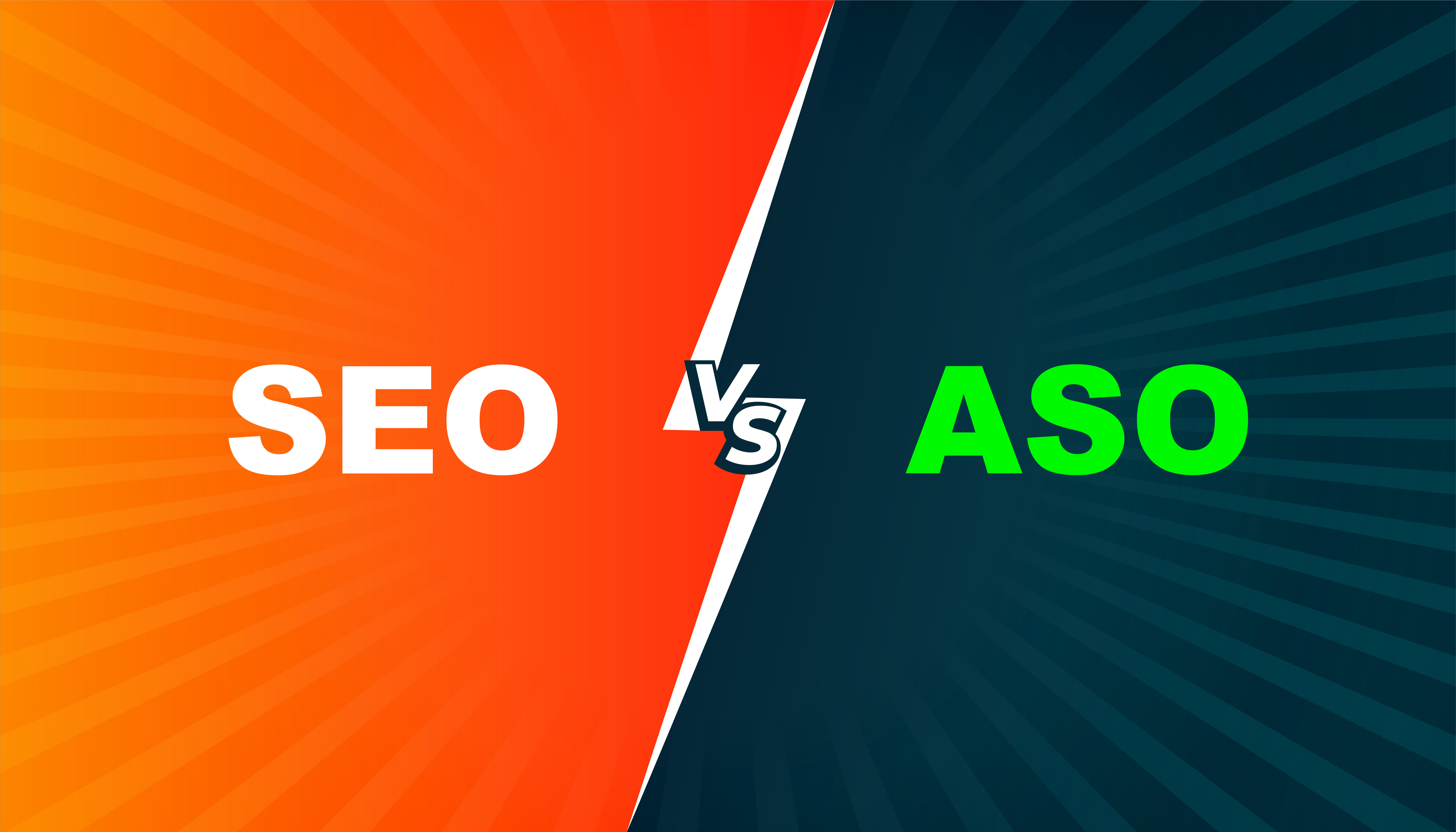 SEO or Search Engine Optimization works towards hiking up a webpage or blog's ranking on search engines such as Google, Yahoo! Search and Bing. On the other hand, App Store Optimization (ASO) helps to enhance an app's ranking on an App Store through overall visibility from user engagement, visuals, and performance upgrades.
A website with a higher ranking will have greater chances of highlighting its presence within the first 5 links from keyword searches. Similarly, an app with a striking icon and a crisp descriptive name will be within the "editor's choice" and top listing through keyword optimization.

Now other than this similarity of keywords optimization between SEO and ASO services, you'll find more differences between the two traffic-enhancing processes.
The following points can also help you choose a compatible platform between a search engine and an app-store, to place your services for maximum traffic generation.

Let's check them out:

SEO vs. ASO: A Comparison
SEO Services strive towards generating targeted traffic to a webpage through organic keywords optimization. The objective is to gain higher ranking through more clicks on the webpage.

Webpages containing solutions and informative blogs can gain more traffic through popular keywords and phrases that befits the search result. For example, a question regarding healthy breakfasts can have a handful of useful keywords such as "healthy breakfast", "vegetarian meals", "breakfast ideas" and so on.
Search Engine Optimization incorporates such keywords into the content, improving their chances of generating increased on-page traffic through maximized clicks. A webpage with frequent visits steadily rises on the search engine ranking, acquiring the space in the top-5 search results.
ASO services, on the other hand, focuses on multiple strategies to increase an app's download frequency through customer retention. Through ASO, you can improve your app's performance, work on upgrades, and attract more traffic with quirky visuals/UI.

Must Read: App Store Optimization: A Complete Guide

Let's take a similar example of a keyword search. If a user wishes to check with the term "cooking", you have multiple avenues open to reach out if the keyword matches yours. The keyword provides a niche of apps on results such as cooking games, diet-check applications, culinary blogs, and more.
If your app falls under these categories, as a developer you can utilize App Store Optimization to design icons, develop proper interfaces and advertisements. Doing so increases the chances of gaining more visitors to check out and even download your app.

Ranking
A web page or app's ranking can help it verify its authenticity to their respective platforms. For example, if the iOS App Store algorithm checks the positive feedback, click frequency, and download results from your app, there's a higher chance of it being on the popular listing.
Now, the SEO and ASO services have their personalized methods of increasing the ranking.


For SEO:
Page's speed and crash frequency: Your webpage if with a smooth interface, can load quicker than other webpages on the search engine. An optimized webpage that doesn't keep the visitor waiting, will have better traction of traffic retention and raise. Similarly, a well-optimized webpage will face lesser crashes and can function smoothly under all network speeds.


Keyword Density: Frequently searched keywords can help your page gain maximum relevance and ranking. Keyword placement, phrases, and hyperlinking can help the users relate to your content in terms of their pursue. Depending upon the keyword size, usage frequency, and placement, the search engine can prioritize your webpage for maximum importance.


Images Alt Text: At times, crashes are inevitable. Server crashes through weak network connections are some of the known reasons behind an incomplete page load. As images take the longest to appear on a page, Images Alt Text can help your readers understand the absent image through screen-reading tools. Thanks to these SEO tools, your user can receive a descriptive understanding of the absent image.


For ASO:
Visuals: App icons, advertising videos, and screenshots provide a stark difference between ASO and SEO services. Utilization of proper colors, popping images, and keywords, can retain a customer's attention for a longer time. Similarly, app usage screenshots and videos that provide a briefing on the app's services can draw in users with related-searches.


Title: The title of the app should be catchy. You can also integrate the keyboards into a title by providing a short description of your services.


Download Rate: You can increase your app's download rate through App Store Optimization. Keeping the above features in mind, when your services fit the app store searches, the application might receive a popular listing due to its frequent appearance within the first few results. When your app receives frequent downloads, it gains the algorithm's favor of increased frequency.

Ratings and Reviews
Ratings and reviews, of course, work differently for apps and websites.
Through SEO services, a webpage or blog can receive proper traction to gain more traffic. A page's popularity also depends on visitors. More clicks, reviews, and mentions can help your page strive for relevancy.
As for ASO services, your application's good reviews and ratings can prompt it to stay on the popular listings for users to download. You can always draw in potential users by maintaining maximum positive reviews.
Hence, both App Store Optimization and SEO services play a vital role in listing your services up a notch through your user's reviews and suggestions for prompt updates.
Conclusion
You can be an app developer, a website developer or both. And for their rank to soar on the top-5 list on webpage or App Store search engines, SEO and ASO services are the answers. Other than notable similarities such as keyword optimization, both ASO and SEO help promote your services by increasing relevancy, reach and traffic retention.